Expert Residential Masonry Repair for Southeast Wisconsin Infrastructure
Increase the Value of Your Home with Custom Restoration Inc.
Looking to restore the masonry in your home to increase the value? You need help from the masonry experts at Custom Restoration Inc., Wisconsin's trusted professionals in residential masonry repairs, construction, and restoration. With experienced masonry professionals
We offer high-quality masonry repairs for residences throughout southeast Wisconsin, including:
Multi-unit residential buildings
Apartment complexes
Condominiums
And more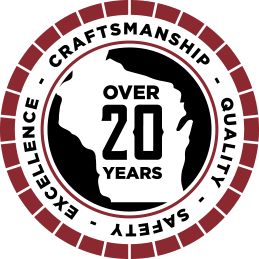 Old Deteriorated Masonry?


Tuckpointing is the Solution for You

Cracks and deteriorated bricks in a building's structure is a common problem, and can end up making your home or storefront business look dilapidated and old. Cracks in the masonry can also cause significant structural issues in your building, creating serious problems down the road. Even a small 1/16th inch crack can allow water to penetrate throughout an entire chimney or flue.

Custom Restoration will properly fix masonry joints with tuckpointing to assure a quality finish. No matter what kind of shape your masonry joints are in, our team of experts can help you fix the problem and at an affordable price.

Check out the

beautiful masonry work

we've done for homes and commercial buildings throughout Southeast Wisconsin!
This slider requires JavaScript to be enabled.
Some of Our Residential Masonry Services Include:
If you have any questions you would like to ask regarding your residential masonry needs, don't hesitate to contact us today!
Contact us today to get an estimate for your repair or restoration project in southeast Wisconsin.


Contact Us