Masonry Repairs in Waukesha, WI
We're Your Wisconsin Masonry Repair Contractors
Custom Restoration specializes in all types of professional masonry repair. Whether you have a simple problem solved with tuckpointing, or you need your entire fireplace rebuilt, Custom Restoration has the knowledge and expertise to complete any level of restoration for your Waukesha home or commercial building.
Get an Honest Quote Today Check out our Project Gallery
Waukesha Masonry Repair and Relining for Homeowners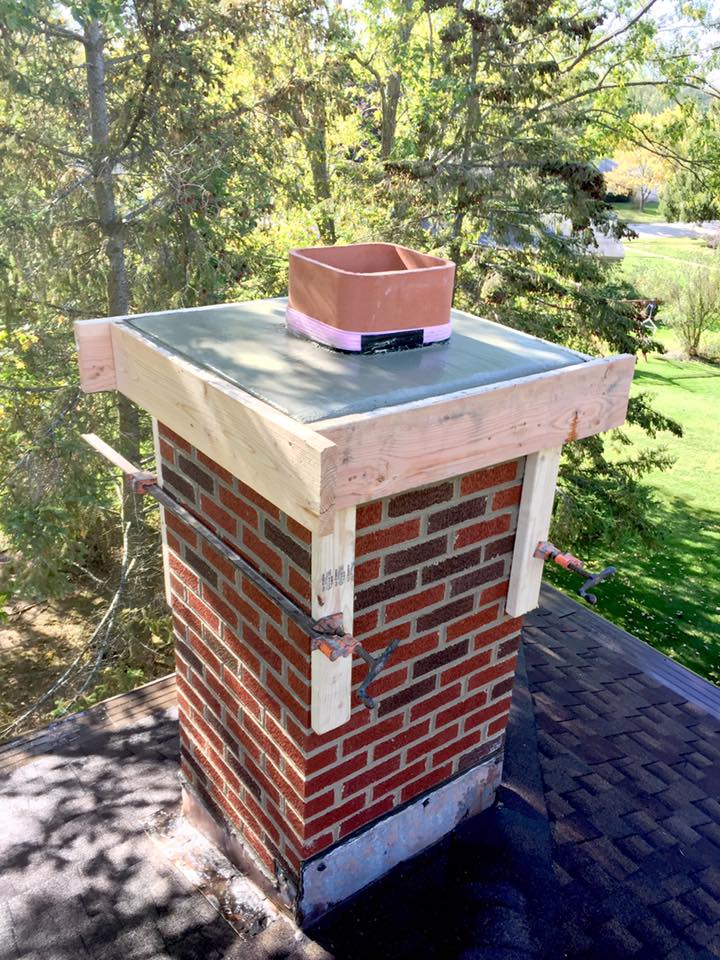 If you're looking to repair or replace your home's masonry work in Waukesha, we've got you covered. Repairing your masonry and chimney can only benefit you in the long run. Repairing your home's chimney will:
secure the structure's integrity
update the structure's appearance
save you money for the future
Repairing and replacing your chimney's stones can save you money when you're on a budget. Adjusting stones and bricks on your masonry can help straighten the structure which will save you from a major restoration project in the future. The most affordable alternative to replacing your entire chimney is chimney relining. Installation of a new liner will ensure proper ventilation of fireplace fumes.
Fireplace Services for Waukesha Homes
Custom Restoration creates beautiful fireplaces for Waukesha clients through restoration services and resurfacing. A fireplace provides warmth and comfort to any room. Resurfacing takes functionality to the next level to make your fireplace a unique centerpiece.
Our masons use veneer cut stone, thin brick and cultured stone in various colors. Veneer puts less stress on the home foundation and is less invasive than a full remodel. Veneer gives a stone finish and comes at an affordable cost. Our masons use SOLID FLUE lining, the best in the industry, to ensure long-lasting and safe fireplaces.
Tuckpointing Services for Waukesha Homes

Custom Restoration works with residential and commercial clients in Waukesha for mortar repairs and tuckpointing. With over 20 years of experience, we know how to deliver the best results at an affordable price.
Bricks and stones are very durable materials that are often found on the exterior or interior of Waukesha properties. Bricks can easily last a century. However, the mortar that holds them together needs maintenance. Mortar deteriorates over time due to settling foundations, harsh weather patterns and improper construction.
The benefits of tuckpointing:
Fights against larger, more costly problems
Creates a seal against water and mold
Adds value through better curb appeal
Custom Restoration uses different color mortar to blend old and new masonry on Waukesha properties.
Lintel Replacement Services for Waukesha
Custom Restoration repairs faulty l-beams in the Waukesha area. L-beams are found in homes and businesses above doorways, windows, entrances and fireplaces. Lintels are horizontal beams that support the foundation of a structure. Over time, lintels corrode and need maintenance. Lintel repairs secure the foundation and revitalize old architecture.
Flawed l-beams cause the surrounding masonry to bend, sag, warp, crack or fall. Noticeable defects must be tended to immediately to avoid a larger restoration project. Custom Restoration employs skilled masons and determines the severity of your faulty lintel. We ensure the best results at an affordable price.
Masonry Caulking for Sussex Buildings and Homes
Take care of your Waukesha home or business through masonry caulking. All stone and brick exteriors require proper caulking maintenance. A fresh seal improves the appearance of any property and prevents mold or water intrusion. Mold is harmful to health and water damage is costly. Custom Restoration uses 100% silicone waterproof, flexible, shrink and crack-proof caulk. The masons at Custom Restoration offer affordable masonry caulking and produce durable results.
Stone and Brick Cleaning
Custom Restoration offers masonry cleaning for Waukesha homes and buildings. Masonry cleaning is important for maintaining the look of a property and improves long-term material stability. With the proper care, your property will remain beautiful and standing for decades!
We use an environmentally friendly, superheated water cleaning system to remove paint, wax, chewing gum, bitumen, algae, oil and organic matter. Custom Restorations uses other solutions when necessary to ensure the best outcome for your property and its needs.
Cultured Stones and Decorative Bricks
At Total Masonry, we offer cultured and decorative stones and bricks. Our types of cultured stones include flat ledgestone, cobblestone, sculpted ashlar, and fieldstone. Our decorative bricks include ribbed, striated, rounded rib, and bullnose. Replacing the stones in your chimney and masonry can help restore the look of your home, ensuring you keep the structural integrity of your chimney. Order your new cultured stone and decorative bricks today! Our professionals are excited and ready to help you.
Interested? Get a Quote Today!
Don't live in Waukesha? Take a look at some of our other locations.