Masonry Repairs for Oshkosh, WI Infrastructure
We are Your Total Masonry Repair Contractors
Cracks can make any home or storefront business look dilapidated and old. They can also cause significant structural issues in your building, creating serious problems down the road. Custom Restoration specializes in all types of professional masonry repair. Whether you have a simple problem solved with tuckpointing, or you need your entire fireplace rebuilt, Custom Restoration has the knowledge and expertise to complete any level of restoration for your Oshkosh home or building.
Get an Honest Quote Today Check out our Project Gallery
Custom Restoration will properly fix masonry joints with tuckpointing to assure a quality finish. No matter what kind of shape your Oshkosh-area building is in, our team of experts can help you fix the problem and at an affordable price.
Masonry Repair for Oshkosh Residents
Take advantage of our extended masonry services with our lintel replacements and I-beams repair services. Our lintel services will help fix
bricks that appear to be warped, opposed to laying straight
cracks around the mortar joints and bricks
crushed bricks in the upper corner of windows and door jambs
At Total Masonry Repair, we'll take care of your damaged chimneys, masonry, and lintels. Give us a call today for a free quote!
Get an Honest Quote Today Check out our Project Gallery
Chimney Relining in Oshkosh, Wisconsin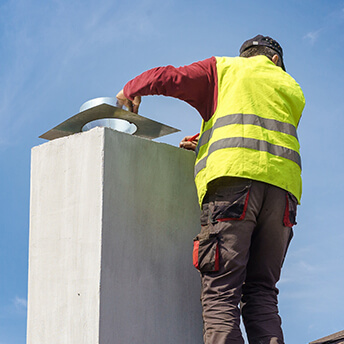 Reline your Oshkosh chimney with Total Masonry Repair. Relining your chimney helps to ensure your chimney will work as efficiently as possible. Project big or small, we're here to help you out. Keep an eye out for common signs of chimney deterioration such as:
white stains on bricks due to excess moisture
damaged mortar joints causing leaks
broken or cracked bricks due to excess moisture
weathering flashing due to excess moisture and also causing leaks
Whether you're looking for tuckpointing services, chimney relining, or a complete chimney and masonry restoration and rebuild, we've got you covered. Call our professional contractors today to get your masonry or chimney fixed right.
Services for Masonry Cleaning in Oshkosh
Utilize the masonry cleaning services provided by Custom Restoration to restore your brick or stone! The ThermaTech™ superheated water system removes paint, wax, chewing gum, bitumen, algae, oil and organic matter from Oshkosh properties. We use other solutions when necessary to achieve the best outcome for your home or business. Masonry cleaning boosts the appearance of masonry and improves long-term material stability.
Oshkosh Fireplace Design and Refacing
A fireplace sets the tone of a space. Custom Restoration offers fireplace resurfacing, relining and custom design for Oshkosh customers. Resurfacing produces big results at a lower cost. Changing the surface of a functional fireplace is less invasive than a full remodel.
Custom Restoration uses veneer cut stone, thin bricks and cultured stone to fit any home aesthetic desired. Our materials put less stress on the foundation of a home and mimic the appearance of natural materials. We can turn any outdated fireplace into an efficient, showstopping focal point.
Tuckpointing Services in Oshkosh, WI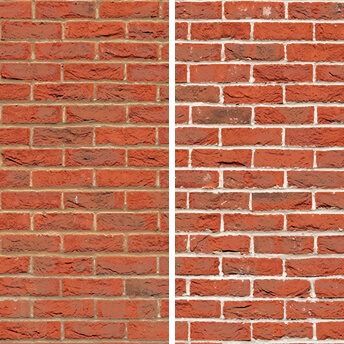 With over 20 years of experience in tuckpointing and mortar repairs, Custom Restoration ensures beautiful, affordable solutions for Oshkosh clients. Tuckpointing provides a facelift to the exterior of a brick or stone building and ensures a strong foundation. Even the smallest crack in a building's mortar can allow water to penetrate an entire chimney or window lintel.
What causes mortar to deteriorate?
Age
Harsh winters
Continuous, direct sunlight
Heavy precipitation
A shifting or settling foundation
Our highly skilled masons use the best techniques, tools and equipment to provide long-lasting results. Custom Restoration uses different colors and quality mortar to create a seamless. Want to learn more? Contact us today.
Oshkosh Cultured & Decorative Stone Design
Starting a new residential or commercial masonry project in Oshkosh? Custom Restoration has countless options to help achieve the right look and aesthetic. We use high-quality cultured stone and decorative brick to achieve a custom look. Visit our gallery to see our masonry work on patios, retainer walls, siding, chimneys, fireplaces, stairs and more!
Cultured stone works as a veneer and contains a blend of stone particles and resin. We're able to create realistic-looking marble, granite and onyx finishes. Looking for something else? Just ask! Cultured stone is versatile, durable, long-lasting and easy to install.
Decorative bricks are extremely resistant and several patterns are possible through specific placements. Bricks are laid in patterns like:
Herringbone
Stacked bond
Running bond
Basketweave
And more!
Custom Restoration uses ribbed, striated, rounded rib and bullnose bricks to create the right look for your property. We'll complete your dream masonry project at an affordable price.
Masonry Caulking for Oshkosh Homes and Businesses
Work with our expert masons to restore your masonry caulking. Custom Restorations works with Oshkosh residents to maintain commercial and residential caulking. Brick and stone require a proper seal to prevent water and mold seepage. Our masons use 100% silicone waterproof, flexible, shrink and crack-proof caulk for durable results. Improve the look of your property and maintain structural integrity with Custom Restoration's affordable services.
Oshkosh Lintel Replacement Services
Custom Restoration repairs and replaces l-beams for Oshkosh clients. L-beams are horizontal beams that support the openings within a home. They are found above doors, windows and entranceways. Lintels are imperative for supporting load-bearing structures throughout the entire home.
Linter repair and replacement is common. L-beams corrode over time. Contact an expert if you notice warped bricks, cracks in the surrounding mortar/masonry or crumbling corners. Small lintel problems turn into large issues when left unrepaired.
Check out the beautiful masonry work we've done for homes and commercial buildings throughout Oshkosh and southeast Wisconsin!